Overview
Cryptofacil is a very recent website aimed at offering a variety of exchange or exchange services for various digital currencies and cryptocurrencies. Counting on its headquarters in the capital of Uruguay, this Latin American company has sought a way to attract the attention of some of the biggest giants and to establish a commercial relationship with the renowned Bittrex exchange, which is located in the United States. Recently, it was learned that these two commercial companies have decided to undertake a new platform in conjunction with the best parts of both to develop an exchange or trading site for digital assets based on the blockchain.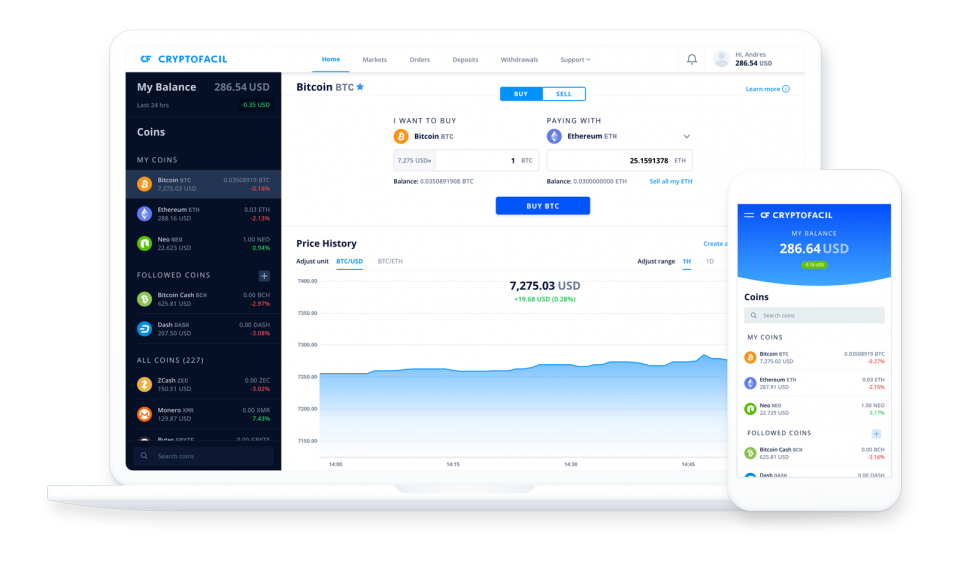 Why use it?
This platform to be created between the two giants will have the company Cryptofacil as such directly in charge of the client's operations, among which stand out the fulfillment, customer support, marketing, sales and personalized development- All this now in addition structured in a perfect harmony with the advanced technology of Bittrex's digital trading platform and a wide range of cryptocurrencies, of which the most famous ones are the btc. It is known that this platform will offer services initially in the markets of Latin America and the Caribbean, a situation that will not be forever, as the company plan to gradually increase the scope of the interface to other markets while they await the process of managing the issues for the proper licenses and regulations.
Reason For Your Platform
The main objective of Cryptofacil is mainly for (quote textually to a member of its development team) giving priority to the basic requirements of customers. A simple and easy to use cryptocurrency platform with excellent customer service and value-added services in a safe and secure environment. Our goal is to become the encrypted and unprecedented data exchange the most respectable platform in Latin America and the Caribbean. These words generate great empathy and security in a large number of users of cryptocurrencies found in the Latin American and Caribbean region.
Main Public of Cryptofacil
This platform is directed mainly to the Caribbean and Latin American area as we have mentioned before, and the plans seem to start with the launch of more than 225 pairs of crypts. Here, Bittrex stands out because it will contribute to its technology for commerce, along with its access to a wide range of digital tokens. With Cryptofacil, your team plans to take on client operations, which will include customer support, sales, compliance and more. The general exchange will provide an opportunity for the Latin American and Caribbean market to have more access to blockchain assets.
Conclusions
Cryptofacil and Bittrex will stand out among its main competitors for offering a platform for the free exercise of cryptocurrency digital commerce in an efficient, fast and secure way. This also provides access to some blockchain based projects that stand out when it comes to entrepreneurship. While a large number of people confronted with cryptocurrencies expand throughout the world, they are seeing a lot of companies like this which will serve not only to support the field of digital currencies based on the blockchain but also to directly support to all those undertakings that use this magnificent technology for the daily use of all of us.